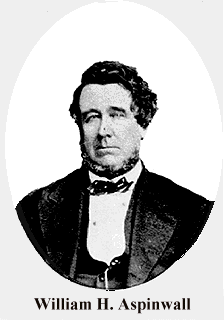 Photograph courtesy of the Bancroft Library, U.C. Berkeley

CALLED AN UNUSUALLY HONEST, pious man, sometimes a visionary, William Aspinwall began his career with the family business, then ventured forth into new territory by founding both the Pacific Mail Steamship Company and the Panama Railroad. His legacy was great, but he entered the world quietly at home in New York City on December 16, 1807.

In 1832 Aspinwall joined Howland & Aspinwall, a New York merchant firm founded by his cousins that specialized in trade with the Caribbean. Aspinwall assumed control of the firm in 1835 and expanded trade to South America, China, Europe, the Mediterranean, and the East and West Indies. In 1840 his younger brother, John, began to manage the firm and Aspinwall focused his attention elsewhere.
At first, Aspinwall concentrated on his interest in ship design - faster ships meant greater profits - and was one of the first to commission the noted naval architect, John Willis Griffiths, to design what some have called the first clipper ship, Rainbow. With a few successful shipbuilding projects behind him, Aspinwall cast his eyes and his interests even further.
In 1845 Congress authorized a number of ocean mail contracts to be sold. Of all the contracts offered, the one between Panama and the Oregon Territory appeared the least profitable - there were no great ports, no facilities, no industry of any kind, no coal, no repair yards. Yet, in spite of widespread skepticism, Aspinwall acquired the contract. On April 12, 1848 the New York Legislature incorporated the Pacific Mail Steamship Company and designated Howland & Aspinwall as its agent.

Aspinwall ordered three new ships to inaugurate the trade. The California was the first steamer on the west coast and entered San Francisco Bay on February 28, 1849. Joined shortly by the other two, Panama and Oregon, the ships became the backbone of Aspinwall's empire as the California gold rush quickly catapulted the Pacific Mail to success.

But Aspinwall was not a complacent man. In secret he developed plans to build a railroad across the isthmus of Panama to shorten the journey from coast to coast by avoiding the perils of Cape Horn. Construction proved extremely difficult and costly, but in the end the railroad was completed. The first coast to coast train departed the east coast on January 28, 1855. When Aspinwall finally came to Panama to inspect the railroad, he continued on to California. That trip marked the only time Aspinwall ever traveled on either his Pacific Mail line or the Panama Railroad.

In 1856 Aspinwall resigned as President of Pacific Mail. In semi-retirement he traveled, and dabbled in politics and philanthropy. In 1866 he became a founder of the Society for the Prevention of Cruelty to Animals (SPCA) and in 1869 helped to found the Metropolitan Museum of Art. On January 18, 1875 William Henry Aspinwall died at home of a heart attack. Howland & Aspinwall continued for a short time, closing in 1895. The Pacific Mail Steamship Company survived 100 years in one form or another. The Panama Railroad today remains a vital link in the world's trade routes.

Perhaps the best description of William Aspinwall was written by his clerk, Robert Graham, in his diary: "he is a man, take him all in all. I fear we shall never have another like him."*

*Quote from The Aspinwall Empire by Col. Duncan S. Somerville