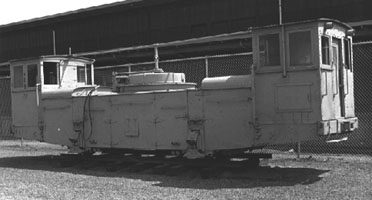 Picture courtesy: Virginia Museum of Transportation, Inc.
The Panama Canal Towing Locomotive
The Panama Canal Towing Locomotive #686 was one of a fleet of 40 built by General Electric in Schenectady, New York in 1914. It's operators referred to it as a "lock mule" or "mule". At one time, more than 100 of these mules operated at Gatun, Pedro Miguel, and Miraflores lock stations.
The 686 was a "Pacific Locks Mule" which operated at the west end of the canal. (Atlantic mules, by comparison, differed slightly in appearance). No. 686 has dual electrical and mechanical controls, permitting operation from either end. It was powered by a three-phase, 220-volt, 25-cycle motor geared to traction equipment. The gearing provided a speed of 5 miles per hour, with a manual gear shift for two miles per hour, for rack and pinion operation while towing ships. A special electrical connection enabled motors to operate at 1 mile per hour when towing larger ships.
The towing capacity of the complete unit was 25,000 pounds. Mules were operated on rails parallel to the canal, with one or more on each side to control and center the movement of the ocean-going vessels.
When #686 was retired in 1964, the governor of the Panama Canal donated it to a proposed "American Museum of Electricity" in Schenectady. In 1972, a member of the Roanoke Chapter, NRHS and a former resident of the canal zone discovered the mule. It was brought to the Museum in 1974, where it was restored and painted by Roanoke Chapter NRHS members.
This mule is one of only three known survivors. It is 32' long, 8' wide, and weighs 42 tons. It has a wheelbase of 12 feet and operates on a track gauge of 5 feet.
Article by:
Virginia Museum of Transportation, Inc.
---
Old Towing Mule on exhibit at the Miraflores Lock: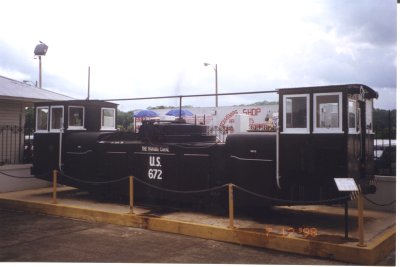 Closeup of GE logo on the old mules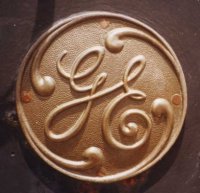 ---
The Modern "Mules"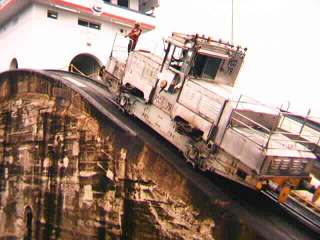 Picture by Angela Wilczynski

Towing locomotive "79" at the Gatun Locks
---
More Pictures of the "Mules"
More Information about the Towing Locomotives
---